SEE Result
SEE (SLC) Exam Results Via Sparrow SMS
With an aim to bridge the distance between you and your results, Sparrow SMS brings exam results directly to your mobile phones. Students across the nation have been benefiting from this service since past ten years.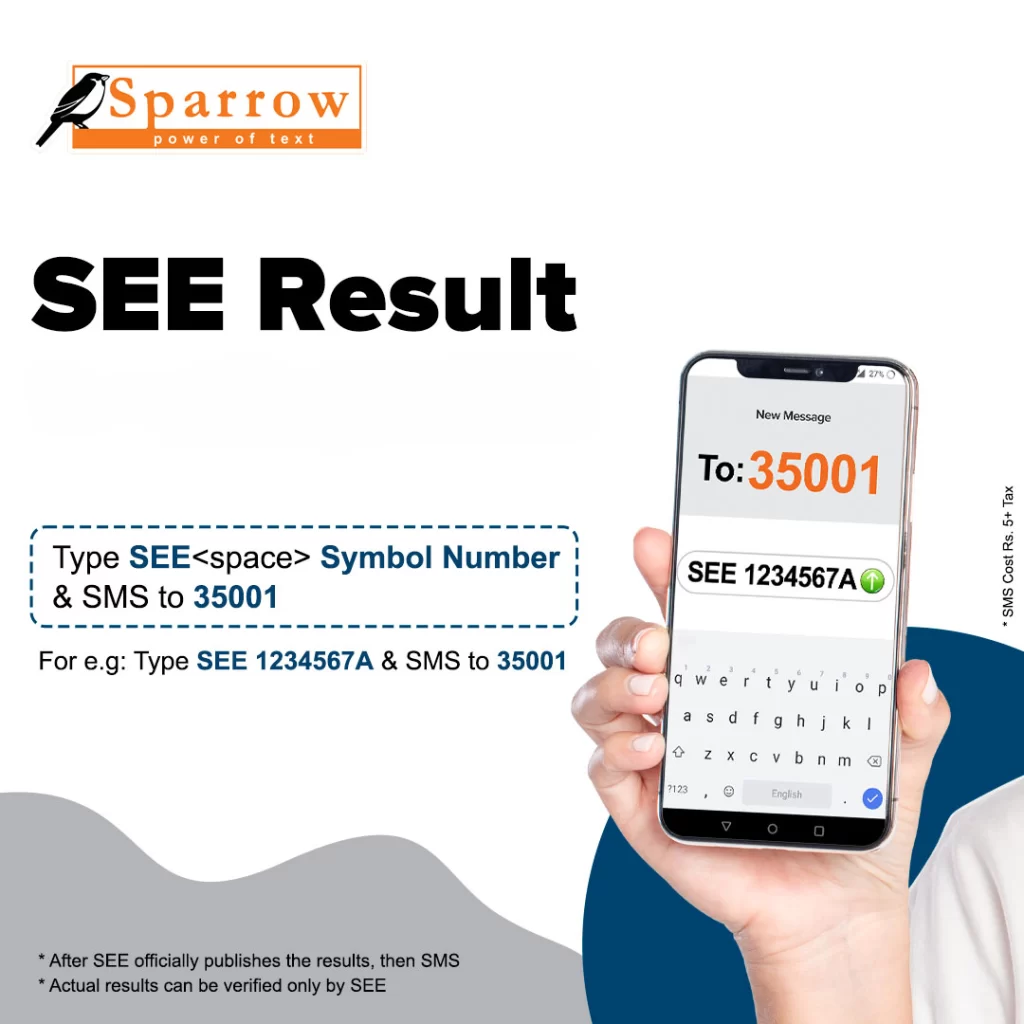 To view your SEE(SLC) result 2077/2078 via SMS, simply follow the following steps:
1. Go to your mobile messages box
2. Compose a new message
3. Type SEE your symbol no.
4. Send SMS to 35001
You will be receiving the SEE Result 2077 2078 with GPA grade after the result is officially announced by OCE. Below is a sample of your SEE Result.
"Congratulations your symbol number is 0000000A. You have passed.
GPA: XXX"
Sparrow SMS delivers the SEE result 2077 2078 only after the results are officially announced by OCE. Once your results are announced officially, you will be able to view the SEE exam result by sending SMS. Type SEE Symbol-number and send it to 35001 only after the results are out by OCE.
Yes, we distribute the SEE results via SMS after the results are announced by OCE. So, you can type SEE Symbol-number and send it to 35001 to get the results of anyone who appeared for SEE exam 2077 but only after the results are published by OCE.
Each SMS would cost you Rs 5 + additional taxes only.
Sparrow SMS being the regular provider of SEE Result Nepal, has always believed in delivering quality services that are easy to use and completely trouble-free. We have been circulating SEE Results to your cell phones after the results are published by OCE at the soonest (generally, in less than 5 seconds). So, in order to come up with such a quick service, we have allocated defined resources for it and also paid other stakeholders on the line. We all know everything has a cost to pay for!
Besides that, we do not get Rs 5 as a sum for us. Each Rs. 5 is divided as below.
50% – Is taken by Telecom Operators ( Like Nepal Telecom and Ncell )
6% – Is RTDF ( Rural Telecom Development Tax)
1.5% – Is TDS
Also, we need to pay good amount per SMS to OCE as well after all data verification.
Further, we have Rs 1 Advertisement Cost for promoting SEE result Nepal format over various platforms. And the major costs at our end is yet unseen.
I. High Configuration Servers, that has to be maintained for long run in Expensive Data Centers.
II. Telecom Connection
III. Highly Skilled Telecom/VAS Engineers
IV. Content and Digital Marketers and other employees cost.
Only after distribution of all these costs, we receive the remaining amount to our side. We have always been working hard to provide you a reliable medium for checking SEE Result 2077/2078 at a very low cost.
Previously, many students had to go through many hassles to view their SLC Results Nepal like phone calls, buying expensive newspapers available in limited numbers, visit cyber cafes, high loaded traffics on websites and what not? But, Sparrow SMS has put on all its effort and knowledge to overcome such hassles with a genuine SMS service to distribute SEE Result Nepal via SMS after the results are published by OCE at a reliable price of Rs 5 + additional taxes only.
And there are absolutely no hidden charges for SMS. Each SMS for viewing SEE Result 2077/78 would cost you Rs 5 + additional taxes only.